The holiday spirit is out in full force when eating here 
The holiday season is an exciting time for all of us. Not only do we all get to throw on our ugly sweaters, eat that extra plate without any guilt, or just take time to relax – but we also see the Christmas spirit all around us. 
Businesses in the hospitality industry have gotten more and more creative in what they offer customers for the holidays, whether it's a special menu, decorating in a unique way, or going all out. And when we say all out, we mean ALL out. 
While plenty of us enjoy Christmas dishes and enjoying a home-cooked meal, there are also some days around the holidays where you just need a break. That's where restaurants can come in and give you a unique holiday experience.  
Here are some restaurants that really go all out for Christmas.
Tam O'Shanter – Los Angeles, CA
There's nothing that screams Christmas cheer like caroling. How would you feel about Christmas carolers circulating around tables? Well, if you're crazy about the holidays, then this might be the place for you. 
Tam O'Shanter in LA features carolers every evening throughout all of December. The Scottish pub's patio is also open, with a cozy fireplace so you can truly get those warm, fuzzy feelings that the holidays tend to bring. 
34 Mayfair – London, UK
 
How fitting that the number 34 be included here, as the 34 Mayfair truly does offer a miraculous décor and holiday vibe year after year.  
The London hotspot undergoes a festive makeover every year that includes a whopping 14,000 decorations, including 8,400 glittering baubles covering their walls and ceilings. Their offerings go well beyond their décor, with signature holiday dishes and cocktails offered, but their stunning décor alone is worth the experience.  
Tavern on the Green – New York City, NY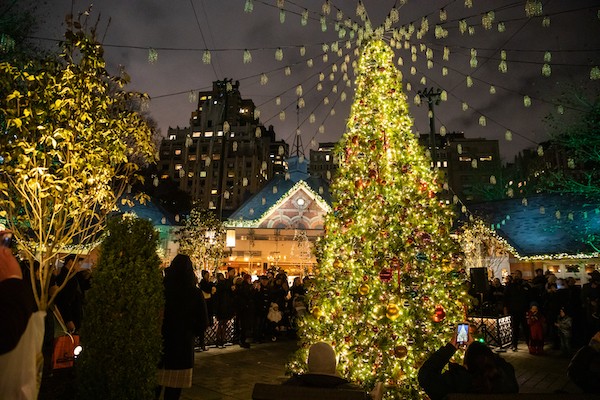 It's only fitting that a restaurant in New York City makes this list, and to top it all off, it sits in beautiful Central Park. Tavern on the Green goes the extra mile in making the holiday season feel special, as their annual traditions include a Christmas tree lighting ceremony. 
As for the establishment, the bar area features plenty of greenery, a tree, lights and live jazz to kick up the atmosphere. While enjoying a holiday cocktail or dish, you can also explore the park, with plenty of photo opps available.  
Daphne's – London, UK
Even the most Christmas crazed decorator will be floored by the sheer volume of decorations at Daphne's, a restaurant with traditional Italian cuisine that truly captures the glamour diners are looking for. 
Their elegant menu and themed cocktails are what keeps diners to stay after their décor lures you in. If you visit, you'll certainly get plenty of Instagram-able moments. 
Lillie's Victorian Establishment – New York City, NY
 
So festive, there had to be two locations. Lillie's has locations in Union Square and Times Square in Manhattan. They don't just stay open through the holidays either; Lillie's keeps their Christmas décor up well into January and they are known for their creative festive cocktails.  
Everything just oozes Christmas in Lillie's. 
Royal 38 – Dallas, TX
The Royal 38 in Dallas, Texas is a pop-up bar in what is quickly becoming a trend in North America. The fact that it's only open for one month of the year just adds to its appeal and is a must-visit for anyone with the holiday spirit. 
Rolf's Bar & Restaurant – New York City, NY
Many have described the experience at Rolf's in New York is like 'dining in a Christmas tree. When you scroll through their Instagram page, you can see why.  
If dining out with an ugly Christmas sweater is your thing, you won't have to worry about being judged at Rolf's.   
The Churchill Arms – London, UK
The Churchill Arms is known as the most festive pub in London, and looking at their Instagram page, it's hard to argue. 
The pub is known for its year-round extravagance, as they spend a whopping £25,000 on flowers each year. 
So you can imagine what they dish out for the holiday season.
Their display includes a stunning 21,000 fairy lights and 80 Christmas trees, which rest comfortably around their building and inside. 
Sheraton Grand Sydney (Christmas themed buffet) Sydney, AUS
One of the most sought-after tickets in Australia on Christmas Eve, the Feast at Sheraton Grand Sydney happens every year on December 24.  
Their Christmas-themed buffet is absolutely stunning, with all the trimmings you could want on Christmas, including turkey and lamb carving stations, fresh lobster, Alaskan king crab, oysters and prawns.
Their desserts will be sure to satisfy your sweet tooth and their Christmas pudding is a must-try. 
If you don't feel like cooking on the 24th, but still want that special dinner, this is a must-see.
Miracle on Bloor Street – Toronto, ON
Imagine being so excited about Christmas that you open up a pop-up bar every year around the holidays. That's exactly what Miracle Toronto does, opening in a new location every year. This year, the holiday pop-up cocktail bar is open on Bloor Street in downtown Toronto. 
Since opening on Toronto's Queen St. In 2018, Miracle is one of the restaurants that go all for Christmas in Toronto. Miracle not only succeeds in getting into the Christmas spirit with their kitschy décor and nostalgic energy, but their cocktails are prepared by professional mixologists, so you're getting quality on top of holiday vibes. 
Wrapping it all up
If you're fortunate enough to be near one of these venues, we're jealous. If you're a restaurant owner looking to spruce things up a little this holiday season, perhaps these concepts can get the ideas flowing.  
Above all, a Merry Christmas and Happy Holidays to everyone! We wish you a safe and merry festive season and look forward to seeing you again in a brighter, more prosperous 2022!